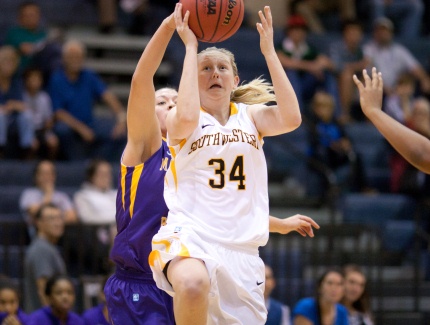 IRVING, Texas - Chelsea Leeder scored 27 points, 10 unanswered in the final two minutes, to lead Southwestern to a 75-68 win over the University of Dallas, securing their first place spot in the SCAC West.
Dallas controlled the game early, taking a slight lead through the opening five minutes. Southwestern came back but the Crusaders pushed again to lead by as many as 13 points, 27-14, with 8:24 to go in the first half.
Annie Bourne's three-pointer sparked a rally and Madison Eschle hit a layup with 2:27 on the clock to tie the game at 29. UD broke away again to lead by four but Anna Fareed's three with 28 seconds left in the half brought SU within one, 35-34, as the halftime buzzer sounded.
Dallas retained the lead through the first ten minutes of the second half, pushing their lead to double digits once again, 57-45, as the clock ticked down through 10 minutes.
Southwestern remained precariously close and went on a 12-3 run to pull the game even once again 65-65 with three minutes to play.
Three free throws by the Crusaders pushed them ahead once again, but Leeder had other plans and scored ten unanswered points to hand the Pirates the win.
As a team SU shot 40.7% from the field and held the Crusaders to 36.1% at home. The teams were nearly even in rebounds and turnovers.
Leeder led all scorers with 27 points going 7-15 from the field, 3-9 from three-point range and 10-12 from the free throw line. Eschle added in 14 off the bench while Bourne continues to post consistent double-doubles with 11 points and 16 rebounds.
Southwestern closes the regular season at 14-11 overall and 11-5 in the SCAC, securing a #1 seed at the SCAC Conference Tournament next weekend.